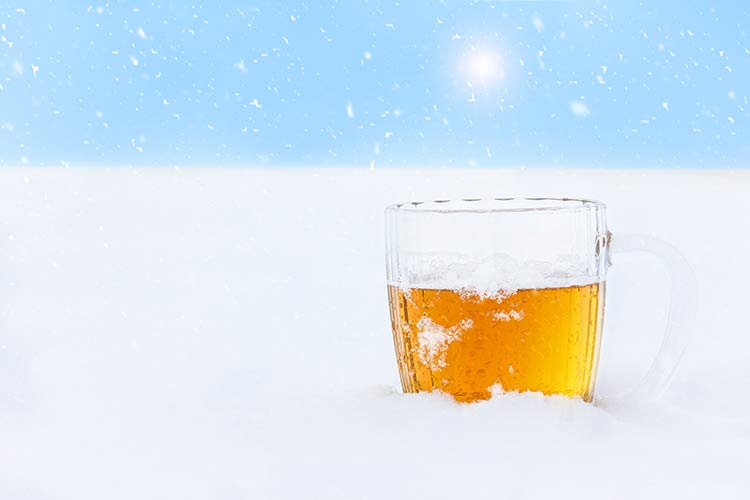 Throughout the year, breweries introduce seasonal beers. One of these recurring brews is the winter ale, otherwise referred to as a winter warmer. Read on to learn what defines this cold-weather beer and how to determine the quality of a winter ale.
Winter Ale Defined
First brewed in Northern Europe centuries ago, the winter warmer category consists of strong, dark ales that produce a warming effect. To give off that cozy feeling, these brews feature a distinctive malt presence with low, leveled and balanced hop bitterness. While winter ales usually range in color from brownish reds to nearly pitch-black, there are also winter beers available that exhibit a pale amber color.
Consider Alcohol Content
One of the definitive features of winter warmers is their strength. The average alcohol content of a winter ale ranges from around 6.0% to 8.0% ABV. Some winter warmers may even reach 10% ABV and beyond. The reason behind these slightly higher ABV levels is to make you feel warm.
Check If It's Spiced
Although winter ales don't have to be spiced to be considered a winter warmer, oftentimes, brewers will add some spice during the brewing process for a bit of a punch. These types of beer are usually brewed before the holiday season using seasonal spices, like nutmeg, cinnamon and vanilla, which meld with the brew for an enjoyable sipping experience.
Stock up on all your winter ale must-haves or add some new brews to your restaurant or bar menu with help from Columbia Distributing. Our selection of beers spans from domestic and imported favorites to beloved craft beer brands, giving you a full range of winter warmers to choose from. Contact us today to learn more.